VISA ATM/Checkcard

---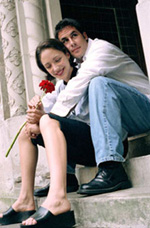 Your ATM/Checkcard works like a check, only it's faster, easier and more convenient. While it looks like a credit card, your purchase amount is automatically deducted from your checking account electronically. The card is accepted worldwide at all merchants displaying the VISA logo. Simply present your card and sign your name or enter a pin. Or, use it to make purchases online.
This card doubles as an ATM card, giving you access to cash when you need it. Transactions at Advantage ATMs will not incur Merchants State Bank charges. A service fee will be applied at non-Advantage ATMs, and in addition, at ATMs where surcharges are imposed by ATM owners.
For lost and stolen cards, contact Merchants State Bank
or call 1-800-236-2442 after-hours.
If a card is lost during international travel, call 1-414-291-8411.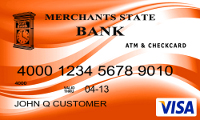 Find an Advantage ATM near you.
Suspicious Activity Procedures
Our processor has a new automated phone process for contacting cardholders to verify suspicious activity on an ATM or Checkcard.
When fraud or suspicious activity occurs on a card, an automated message will be sent to the cardholder's telephone. If a live contact is reached, the following messege will be given:
This is the Fraud Service Center with an important call for (cardholder). Para continuar en espanol. oprima 2. We are calling on behalf of MSB about possible unauthorized transactions on your (Visa/debit/ATM) card account. If you are (cardholder) please press 1. Otherwise, press 2
If the customer presses 1, the message continues:
For security purposes please enter the last 4-digits of your social security number. Thank you. We need to verify the following (number) transactions. For each transaction you will hear the merchant's name, dollar amount, transaction date, country if outside of United States and if transaction is invalid or unrecognized, press 2. To repeat this transaction, press 3. To hear the merchant description for this transaction, press 4.
If an answering machine or voicemail is reached the following message is given:
Hello. This is the Fraud Service Center with an important message for (cardholder). We are calling on behalf of MSB about possible unauthorized transctions on your (Visa/debit/ATM) card account. To protect your account and to avoid potential service interruption, please call us at 1-800-xxx-xxxx.

For expedited service, please refer to case number (number). If you are outside the U.S. or Canada, please call us collect at 727-227-2447. Again, please call us at 1-800-xxx-xxxx. Your case number is (number). We are open 24 hours a day, 7 days a week. Thank you.
Consumer Eduction
We encourage all our customer to educate themselves about ATM and Checkcard security. Please take some time to read through the following external sites for helpful tips and suggestions:
Verified by Visa
Your Advantage Checkcard is equipped with Verified by Visa - a free, simple-to-use service that confirms your identity with an extra password when you make an online transaction. To learn more, visit http://usa.visa.com/personal/security.
Visa Transaction Alerts
Visa Transaction Alerts, part of the Visa Alerts Service, instantly notifies enrolled cardholders of suspicious transaction activity directly to their mobile device via SMS and/or email. An alert is triggered whenever a transaction meets a cardholder's preset parameters. All alerts are sent from VisaNet on behalf of participating issuers within seconds of a transaction.
With Visa Transaction Alerts, the issuer has complete control of their cardholders' experience, preferences and alert type offering. Alert messages may be customized to include unique message content, issuer's name and issuer's logo.
Through Visa Transaction Alerts, cardholders can:
Closely monitor their Visa credit, debit or prepaid accounts
Check for unusual activity and/or track spending levels right on the spot
Take immediate action at the first sign of potential fraud
Each Visa Transaction Alert contains important transaction details such as the amount, time, date, type and purchase type. The alert also includes the merchant name and location plus the Visa-selected currency conversion exchange rate for international transactions.
To receive alerts, cardholders must first sign up for the service at www.visa.com/purchase-alerts. Once enrolled, cardholders can set up specific alert triggers that meet their individual account information needs. Anytime a qualified Visa transaction takes place that meets the cardholder's defined parameters, he or she receives an alert in near real time. Triggers can include:
Transaction thresholds for spending amount
International transactions
Card-absent transactions, such as telephone or Internet orders
Declined transactions
ATM cash withdrawals
Gasoline charges
Cash back transactions
Transactions that include a card balance (pre-paid cards only)
Spend aggregation
Merchant Category Group (MCG) aggregation
International ATM aggregation